A SPECIAL INVITATION TO ALL FRIENDS AND ASPIRANTS ON THE PATH!
The Theosophical Society-Oklahoma City Lodge welcomes Botanist Andre Clewell, PhD. to Oklahoma City.
March 9 – Friday evening: 7:00-8:30 p.m. Clairvoyant Investigation into the Structure of Matter
Where? Unity Spiritual Life Center – 5603 NW 41st , (Warr Acres) OKC
March 10 – Saturday 9-4:30 p.m. Eco-Spirituality: The Way Forward; A Close Look at the Planes of Existence (Lunch Break – 12 Noon – 1:30 pm);  The Obligatory Pilgrimage; What Happens to Me When I Die?
Where? – Unity Spiritual Life Center – 5603 NW 41st , (Warr Acres) OKC
 March 11- Sunday morning, 9:00 a.m. Breakfast/Brunch (Abel's Mexican Restaurant) Sharing with Dr. Clewell –  Q&A-Wrap-Up, and Conclusion
Where?- Breakfast/Brunch: Abel's Mexican Restaurant, 5822 N.W.50th Street, Warr Acres, (OKC) OK.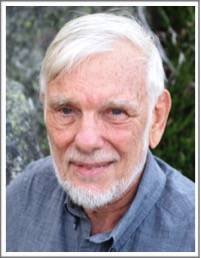 Andre Clewell is a restoration ecologist as well as a Theosophist. He joined the
Theosophical Society in 1995 and holds a lifetime membership. He began studying Spiritual Science with Carol Parrish in 1980. He served as President of the St. Petersburg Lodge helped found Theosophical Study Groups in Tallahassee and in Bradenton-Sarasota—all in Florida. He has been active in the Florida Federation. He published several articles in The Quest magazine on the Theosophical implications of ecological restoration—the discipline in which he has earned global recognition—and occult chemistry. He teaches short-courses on Theosophical principles and has lectured as a national speaker for the Theosophical Society in America. He presently resides near Tallahassee, Florida. He is an Oberlin College graduate and holds a Ph.D. in botany from Indiana University.
        All lectures are free; however, donations are gratefully accepted!
Contact: Nancy Blott, President
Phone: 405-412-1971 (cell)
MORE ABOUT THE PRESENTATIONS
Clairvoyant Investigation into the Structure of Matter
In 1895, Annie Besant and Charles Leadbeater published the first of a series of detailed clairvoyant observations of subatomic structure. They referred to their work as occult chemistry. Science did not even recognize that atoms had internal structure until 1912. Results from these seemingly implausible clairvoyant studies correlated with the periodic table of the elements and atomic weights. Besant and Leadbeater described four new elements that were previously unknown to science, and were they were first to discover isotopes. They published their detailed findings prior to corresponding scientific discoveries, and their clairvoyant accuracy is unassailable by skeptics. Subsequent analysis led physicist Stephan M. Phillips to relate their investigations to quantum mechanics and superstring theory with striking consistency. Phillips also linked them to Pythagorean concepts and the Kabbalah. Clairvoyant investigations unequivocally link science to spirituality. This talk is structured to be understandably to non-scientists and demonstrates what is meant by "the unexplained laws of nature and the powers latent in humanity."
Ecospirituality: The Way Forward
To attain universal brotherhood, we must first satisfy the human values associated with ecospirituality. These values are ecological, socioeconomic, cultural, and personal, and they are identifiable with planes of consciousness recognized by Theosophy. Attainment of ecospiritual values is realized in large part by recovering degraded natural ecosystems, which Helena Petrovna Blavatsky specifically called for in 1879. Global warming is just one example of the environmental ills that can be significantly ameliorated by ecological recovery. This talk is partially a photographic essay that portrays a number of examples of ecological recovery from around the world. Included is the reconnection of fragmented habitat for Giant Pandas in southwestern China conducted by the speaker, who is a restoration ecologist as well as a Theosophist.
A Close Look at the Planes of Existence
Seven levels of consciousness exist, which are called planes or spheres of existence. Each plane is characterized by particular qualities of energy and matter, ranging from numinous and spiritual to physical and prosaic. Specific roles pertaining to human evolution in the spiritual sense are associated with each plane. This talk reviews the planes and their importance, their origins, the material bodies that form on each plane, and their integration to form the human constitution.
The Obligatory Pilgrimage
The Secret Doctrine teaches that ten grand evolutionary cycles are constantly occurring in the universe. Human evolution is one such cycle which Helena Petrovna Blavatsky called the Obligatory Pilgrimage. This journey involves complex experiential development in a context of schemes, chains, rounds, globes, and lesser divisions, all of which are confusing to those who are just becoming versed in Theosophy. This talk attempts to clarify this basic Theosophical doctrine.
What Happens to Me When I Die?
Classical theosophical authors revealed much about the age-old question of what happens after death. Their explanations have been independently corroborated by multiple sources, including the subjective observations of astral travelers and rigorous scholarship. The sequence of normal activities is described. The importance of these activities is emphasized in terms of our spiritual evolution. The talk touches on fascinating, aberrant interlife behavior such as that of earth-walkers and ghosts.