The Oklahoma City Lodge of the Theosophical Society in America is pleased to present: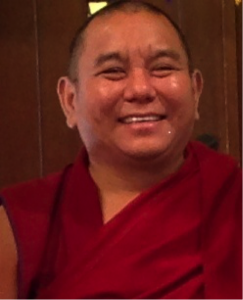 Geshe Chophel. He will be performing a
Medicine Buddha Empowerment
on May 12, 2017 at Unity Spiritual Life Center at 7:00 p.m.
This is a free event, donations accepted.
Unity Spiritual Life Center is located at 5603 NW 41st, Oklahoma City, OK.
The Oklahoma City Lodge is co-partnering with the Norman Cultural Connection to extend Geshe Lobsang Chopel to OKC. The Geshe is willing to come to Norman to teach. The effort is for the establishment of a permanent Tibetan center in Norman, Oklahoma. We are trying to raise funds for the support of the monks and to help build the Center. All donations are tax deductible and should be sent to Marial Martin at the Norman Cultural Connection at 320 West Main Street, Ste. B, Norman, OK 73069-1321. The Norman Cultural Center is a 501(c)(3) organization.
Geshe Chopel will also be teaching meditation and mind training classes Thursday evenings at 1017 Elm Avenue in Norman. These are sponsored by the Norman Cultural Center. Classes are free, and donation are accepted. For more information contact Marial Martin at 405 201-9991, mmartyn@normancc.org, or see normanculturalconnection.org.
Thupten Jinpa, PhD, the translator for the Dalai Lama is coming to Norman to give a talk May 6th 3-5 pm on "How Compassion Can Transform Our Lives" at St Stephens United Methodist Church, at 1801 Brooks Street.
Hardback copies of Thupten Jinpa's book "A Fearless Heart: How the Courage to Be Compassionate Can Change Our Lives" will be on sale for the special price of $15 with a book signing following the talk.