The Oklahoma City Lodge is a chapter of the Theosophical Society in  America.
We are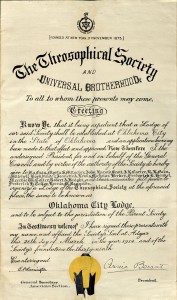 open to all true seekers who empathize with the Three Objects of the Theosophical Society.
Our group was chartered on March 20th, 1914 and meets in person on Wednesday nights from 6:30pm – 8:30 pm.  We also have members who meet via Google Hangout and video into our meetings. For more information contact Nancy Blott.